EBITDA (Earnings Before Interest, Taxes, Depreciation and Amortization) is the number one value driver of your business. The more sustainable the future of your companies EBITDA is, the more ready it is to sell. When you think about the word sustainable, that would mean how sustainable the business is with a new owner.
In Kelly's Estimate of Value (EOV), Kelly asks questions about all value drivers of your business listed below and uses that information to help determine the value of your business within a range of value from market comparable business that have been sold. Additionally, this work helps determine recommendations for increasing value in your business.

Below is an evaluation of the value drivers of a sample company. Attributes in red decrease the value of the business and those in green increase the value of the business. With EBITDA in many cases being the number one driver. When averaging all of the value drivers, that aggregate average guides the advisor to help understand the value of the business within its range. In reality, this tool is good for setting expectations and is a good learning experience when considering taking your business to market. Using best practices, we go to market without an asking price and the market sets the price. The better the business, competition between buyers can drive the price and terms in the seller's favor. With a business with limited buyer interest, other techniques are used to improve the seller's position for negotiating price and terms
Sample Company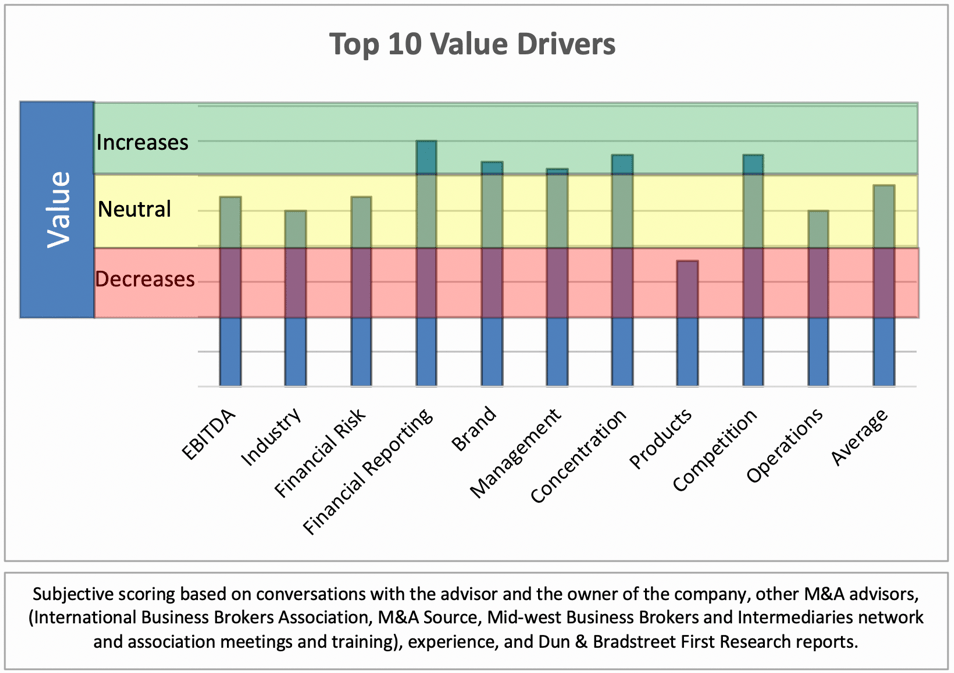 EBITDA
EBITDA is the number one value driver of your business. The more sustainable, higher percent and level of EBITDA, the higher the multiple of EBITDA will be for your business. If you have high EBITDA, it will provide more buyers for your business and a buffer for other areas of your business that may have challenges.
Industry
Industry value drivers of a business are the cyclical nature, volatility, current performance of your industry, and outlook for its future. As an example, home builders typically are valued relatively low because they will always be very cyclical, i.e. when the economy is heathy, they do well, when the economy is unhealthy, they generally do poorly. On the other hand, a manufacture of pharmaceuticals, a business is less effected by the economy and as such, sells for a higher multiple of EBITDA.
Financial Risk
What are the external and internal financial value drivers associated with operating your business? External would be how the economy and outlook for the economy affect your business. Internal would measure health of the overall profitability, utilization of Assets, Debt, and Cash Flow of the company.
Financial Reporting
The structure, competence, and ease of reading financial reports build trust with buyers. More trust equals more value. Reports to focus on, are your Income Statement, Balance Sheet, Cash Flow Statements, AR, AP, backlog, and Inventory.
Brand
How well known is your company in its market? Are your products sold under your brand, your manufacturers' brand, or your customers private label? Are your customers in B2B, B2C, retail, service, industrial markets or international?
Products
Are the products that your company sells a cohesive group of products that provide value to all customers? Where are the products in their live cycle? Do your products compete in commodity or value-added markets? How is the demand and margin security looking five years into the future?


Management
How dependent is the company on its owner? The less an owner does in the business, the more valuable the business is. For some companies to increase value they need to hire a replacement for the owner. Others have to hire key employees, and most just need to delegate. The culture that you have created within your management team and throughout your company matters.


Concentration
Customer, vendor, and vendor location concentration all impact the value of your business. Typically, customer concentration is the most important. To get a buyer across the finish line, the buyer needs to find comfort with any concentration challenges.


Competition
Does your company compete on value or price? Typically, businesses that compete on value have less competition than those that compete on price. Companies without a well-defined niche likely have many competitors, however, they if they own their niche, they likely have very few true competitors.
Operations
Operations refers to your company's flow throughout the business, organization, visual systems, use of lean manufacturing, manufacturing software, purchasing systems, inventory management, scheduling, specification management and procedures. Additional operational considerations include, the age, cleanliness, level of maintenance of equipment, automation, office, warehouse, buildings, and grounds