Who can forget the onset of the global pandemic? Along with just about everything else, the mergers and acquisitions market ground to a standstill in the spring of 2020. The Coronavirus swept across Wisconsin, the U.S. and abroad. In response, companies shifted their focus internally. They transitioned staff to work from home, bolstered their balance sheets and increased liquidity. Essentially, mergers and acquisitions largely were on hold in last year's turbulent business environment. However, 2021 is a different story.
2021 Mergers and Acquisitions Market
In 2021, people are looking beyond COVID. Small businesses are selling quickly, so now is a great time for a healthy business to go to market. The mergers and acquisitions market is strong, primarily due to these factors:
Historically low cost of capital
Private equity groups have abundant capital to invest
COVID vaccines improved the business environment
Companies are motivated to accelerate growth and gain scale
Baby Boomers are ready to sell their businesses and enjoy retirement
Employees are tired of "working for the man" and eager to strike out on their own
Just how fast are businesses selling? Let's look at two sales brokered by Kelly Business Advisors in 2021. Kiely Kelly, Junior Mergers and Acquisitions Advisor, oversaw the sale of an answering service company which closed in six months. Within the first six weeks, the Kelly team was able to finesse nine offers for the seller to consider. Mergers and Acquisitions Advisor Bill Wons was able to receive seven offers for a larger importer of goods from China, within eight weeks of going to market. The Kelly team is working through the due diligence process with that client.
Who are the buyers?
Interested in selling your small business? Then it's time to identify potential buyers. According to the Market Pulse Survey for the second quarter of 2021, first-time buyers are purchasing small businesses valued at $1 million or less. At the other end of the spectrum are the private equity companies, typically investing $2-$5 million. Existing companies and serial entrepreneurs invest across the board.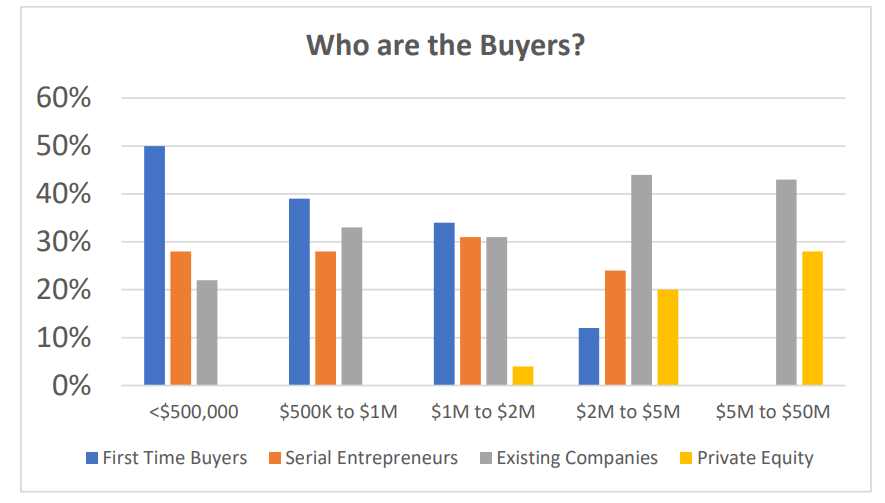 Where are buyers located?
As the value of the business increases, the buyer's distance increases, also. Nearly 80 percent of businesses valued at $5 to $50 million are sold to buyers located more than 100 miles away. For smaller businesses, the buyer will likely be within 20 miles of the physical location of the business.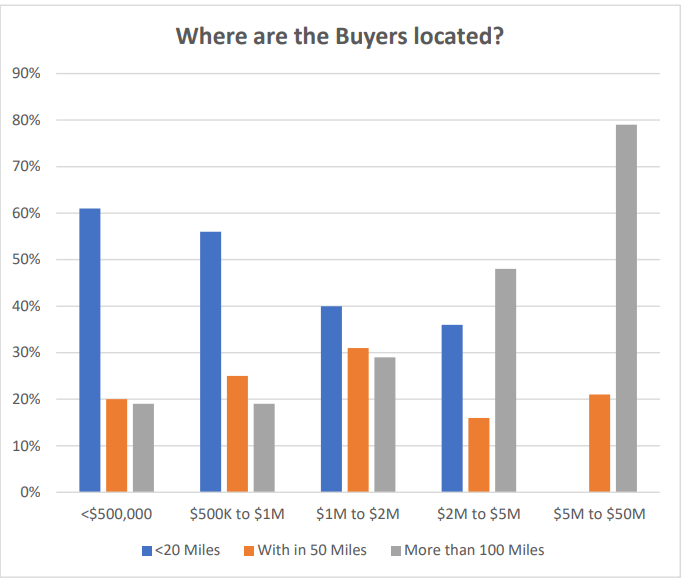 Why are buyers buying?
Buyers have various reasons to acquire businesses. While some want to become their own boss, others are creating new platforms or adding to portfolios. Understanding different buyer types is built into our marketing strategy.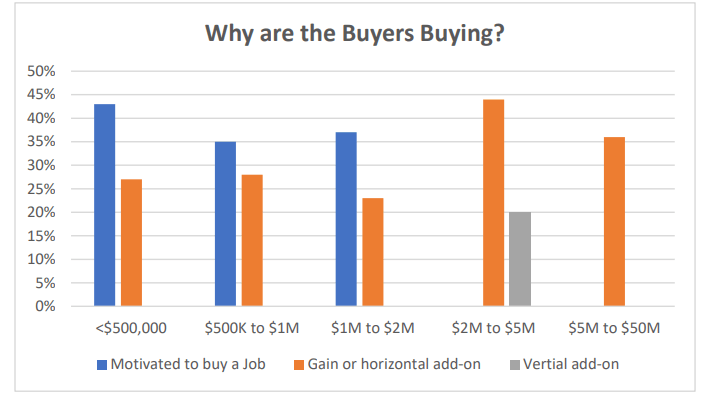 Top reasons business owners decide to sell
Retirement is the No. 1 reason that business owners decide to sell. After working so hard in a business, retiring business owners typically are better off selling than taking a business to the grave.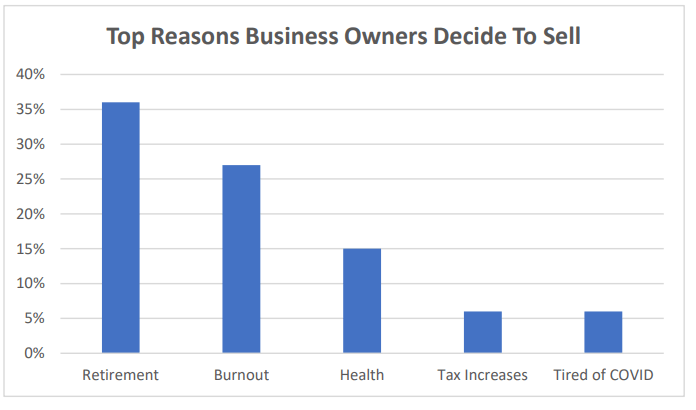 Mergers and acquisitions market rebound
The mergers and acquisitions market rebounded in 2021 from the pandemic-driven business climate of 2020. The market is ripe for buying and selling businesses. To get started, Kelly Business Advisors can assist as a Seller's Representative or Buyer's Representative. Our focus is achieving results, based on industry best practices. Contact us today.